Wigan Orthodontic Centre Contact Details »
Address:
2-6 King Street Wigan
Wigan WN1 1BS
Phone:
01942 821166
Email:
-
Website:
Mobile:
-
Fax:
-
Wigan Wallgate - 263 feet west
Wigan Orthodontic Centre Map »
Information About Wigan Orthodontic Centre »
We are a specialist Orthodontic practice located in the heart of Wigan town centre. We offer NHS and private treatment to both adults and children. Please contact us for further details.Wigan Orthodontic Centre is located in the Wigan area of Wigan. There are at least 20 other listings in the WN1 postcode area.
Dentists in Wigan WN1
Services Offered / Area of Specialisation »
Company Images »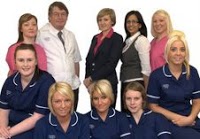 Opening Hours »
Sunday:
Closed
Monday:
8:00 am - 4:30 pm
Tuesday:
8:00 am - 7:30 pm
Wednesday:
8:00 am - 4:30 pm
Thursday:
8:00 am - 4:30 pm
Friday:
8:00 am - 4:30 pm
Saturday:
Closed
Reviews And Comments »
Leave a comment or review about this company. We reserve the right to moderate any offensive comments.